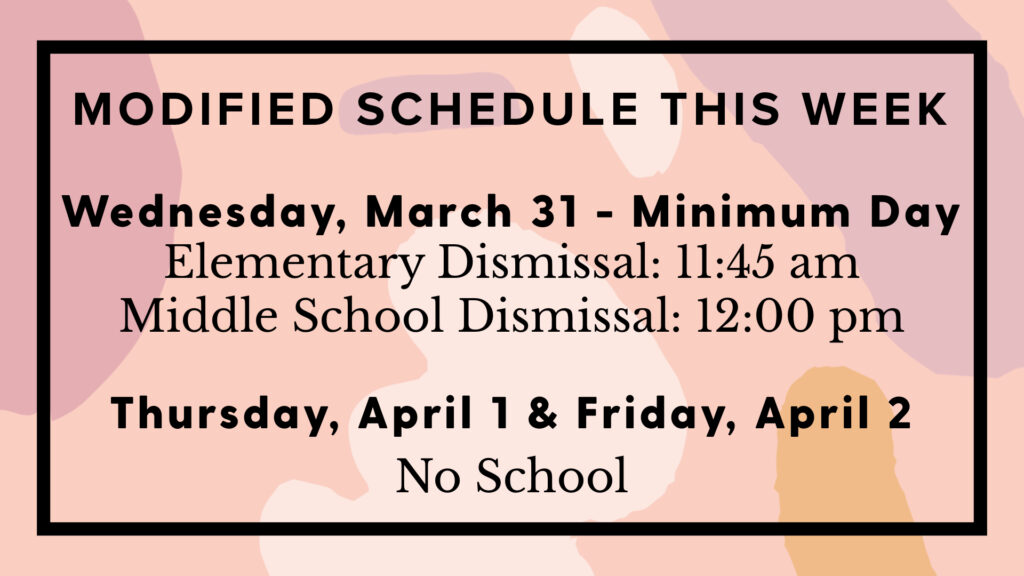 Modified Schedule This Week
Don't Forget about our modified schedule this week! This Wednesday, March 31 is a Minimum Day. Elementary students will be dismissed at 11:45 am and Middle School students will be dismissed at 12:00 pm. There's no school on Thursday, April 1 or Friday, April 2. We hope you enjoy your extended break!
All-School Easter Chapel
Our entire school Easter Chapel is this Wednesday, March 31 at 8:10 am! On-campus students will enjoy chapel together on the field at our outdoor stage, and distance learners and parents can tune in to our livestream by visiting: www.sgcseasterchapel.org!
We will spend time in worship through song led by Donny Hoover, our Kindergarteners will be making a special presentation, a 2nd grade trio will recite Matthew 28:1-6, a third grade trio will recite John 3:16 and we'll get to enjoy a special Easter message. You won't want to miss it!
You're Invited to join San Gabriel Community Church for Easter!
Join us on Friday evening, April 2 for our Good Friday Communion Service on the Field & Blacktop at 7 pm. Be sure to bundle up since it could be chilly.
On Sunday morning, start the day with our Sunrise Service in front of the Gym at 6:30 am, followed by ourSunday Morning Resurrection Worship Service at 9 am on the Field and Blacktop! The Sunrise Service will end at 7:15 am so you'll have plenty of time to grab coffee and breakfast from home or a local cafe, before returning for our main Easter service.
We will livestream our Good Friday and 9 am Easter Sunday Service at www.sgcclivestream.org.
For those joining us on campus, bring your own chair, and face masks over nose and mouth must be worn at all times by everyone ages 2 and up. Please practice social distancing between households, and enjoy the livestream if you're not feeling well.
EGG Hunt
San Gabriel Community Church invites children of all ages to come "hunt" for EGGS (Examples of God's Grace)in this Drive Thru Egg Hunt in San Gabriel and Temple City! Start at the Lysne's house between 10:00 and 11:30 am on Saturday, April 3 and then follow the map to find the rest of the eggs! Collect a prize at each home! (from the safety of your car).
Basketball Games are Back
So much is happening this week, but safely having basketball games again is definitely at the top of our list! Go Bulldogs!
Soccer Tryouts
 Everyone who would like to try out must have a completed Waiver of Liability on file Please click here to download the PDF 
Who: Boys and Girls in 5th-8th Grade When:Monday (4/12) through Thursday (4/15) from 2:30-4:00pm 
Where: Outside on the grass field 
What to wear: Shorts and a tee-shirt, soccer cleats and shin guards if you have them 
Soccer Season: 
• We are playing a full schedule against other league schools.Soccer will start after Spring Break and go through May 14th. 
• The Co-ed team will practice 4 days a week Monday through Thursday 2:30-4:00pm 
• There is a $75 sports fee for anyone who participates on a team 
If you have any questions, please email Coach Pearce at: spearce@sangabrielchristian.org
Wardrobe Policy Reminder
When we return from Easter Break on April 12, everyone, TK-8th grade, needs to be in compliance with our dress code. Please be sure to adhere to all our wardrobe policies, the PDF is attached as a refresher!