In this Message from Mrs. Bialon…
Family Science Night Details
Motivational Monday
Terra Nova Standardized Testing Starts Tomorrow
Elementary students will test from Tuesday, April 5 – Wednesday, April 13
Middle School Students will test from Tuesday, April 5 – Friday, April
during this time so the students can focus on testing. Don't forget the pre-testing checklist…
Go to bed at a reasonable hour
Eat a healthy breakfast
Pack a snack
Get to school on time
Be ready to test well!
Family Science Night
Wednesday, April 13 from 6:30-8:00 pm
Interactive family STEM activitiesStudents and parents are to work on the STEM challenges together.This is a time to learn and make memories! Certificate of Creativity and InnovationAfter your child has completed a project, take a picture of itand email it to their teacher. All pictures need to be submitted by Thursday April 14 (end of school day). The student with the mostcreative and innovative STEM project from each class will be rewarded with a gift card and recognized with a Certificate of Creativity and Innovation. Keep In Mind
The students are expected to do the STEM challenges with the help of their parents.
Teachers will supervise the events but will not aid in the completion of the challenges.
Students and parents are encouraged to complete as many STEM challenges as possible.
Do your best to tidy up your station and remember to take the project home.
All activities will take place in the Quad and not the classrooms.
Paper Towel Rolls Needed for Family Science Night!
We need empty paper towel rolls for one of ourFamily Science Night STEM projects!
Please drop them off in the school office by Friday, April 8.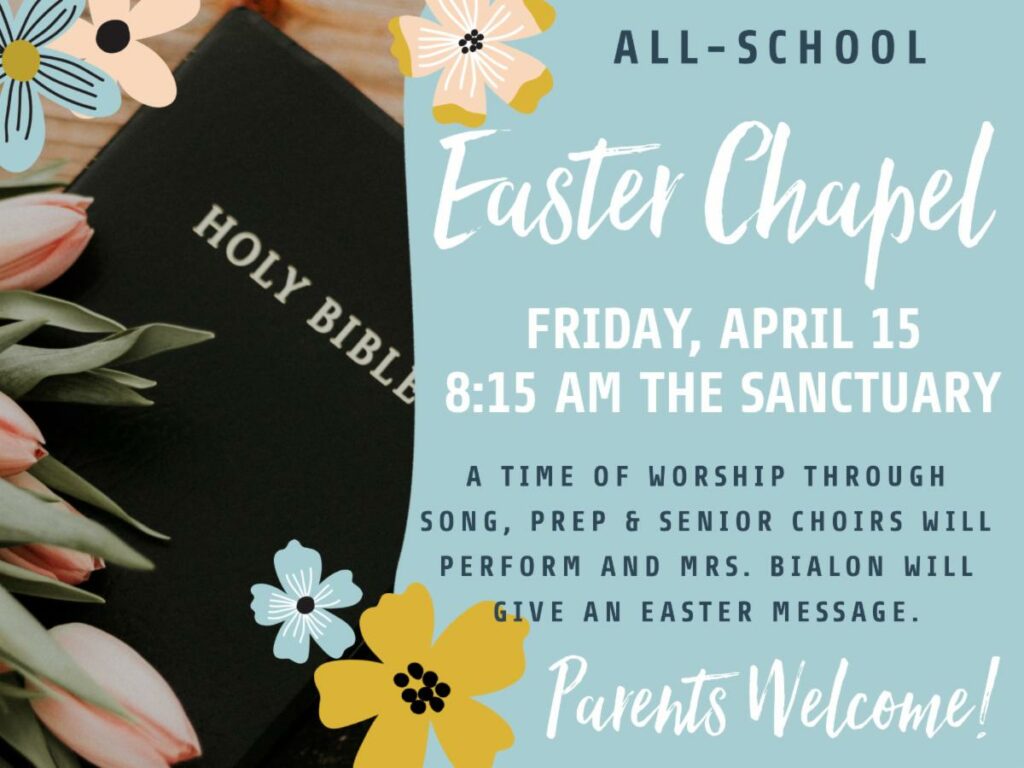 We are so thankful for our morning teacher devotions!
On Thursday, Mrs. Cornish encouraged our staff with Ephesians 1:3-10 and the privilege of what it means to be a child of God. She even brought homemade chocolate chip cookies to share!
The Master's University Job Fair Promoting our Summer Program Positions!
Last week, we had the opportunity to attend the Master's UniversityJob Fair to promote our Afternoon Program job positions!There was a lot of interest among the students looking for agreat part-time job working with kiddos this summer!
How does knowing God holds all things together set your mind at ease?
"From the smallest particles of matter to the millions of stars that make up the universe, God is the maker and director of everything.God is in control of governments, people, and circumstances you find yourself in. He holds all things together, and we do not.We often act as though we are the rulers in our world.But in the end, God is the One who holds all things together—directing our steps, planning our course, making a way for us. When we fix our thoughts on Him, we can rest in His direction and provision."
From Foundations by Ruth Chou Simons & Troy Simons