In this Message from Principal Bialon…
Terra Nova Test Results – Marked Improvement!
Differentiated Math Program for the Fall: 3rd-6th grade
Terra Nova 2021 Test Results
Our students are achieving well above grade level. (Grade level is defined as 50th percentile.)
On average our students achieve in the top 20% nationally!
*The score reported is the percentile rank of the median score in the class. For example, in first grade the median (or middle score) would be 87th out of 100 students tested in reading nationwide.
Summer Program
Our summer program kicked off last Monday! We're excited to spend the summer learning and having fun too!
Kindergarten Graduation
Congratulations to our SGCS Kindergarten class of 2021! We're so proud of all that you've accomplished this year!
And a big THANK YOU to Mrs. Carissa Lysne for loving, teaching and caring for our littlest students!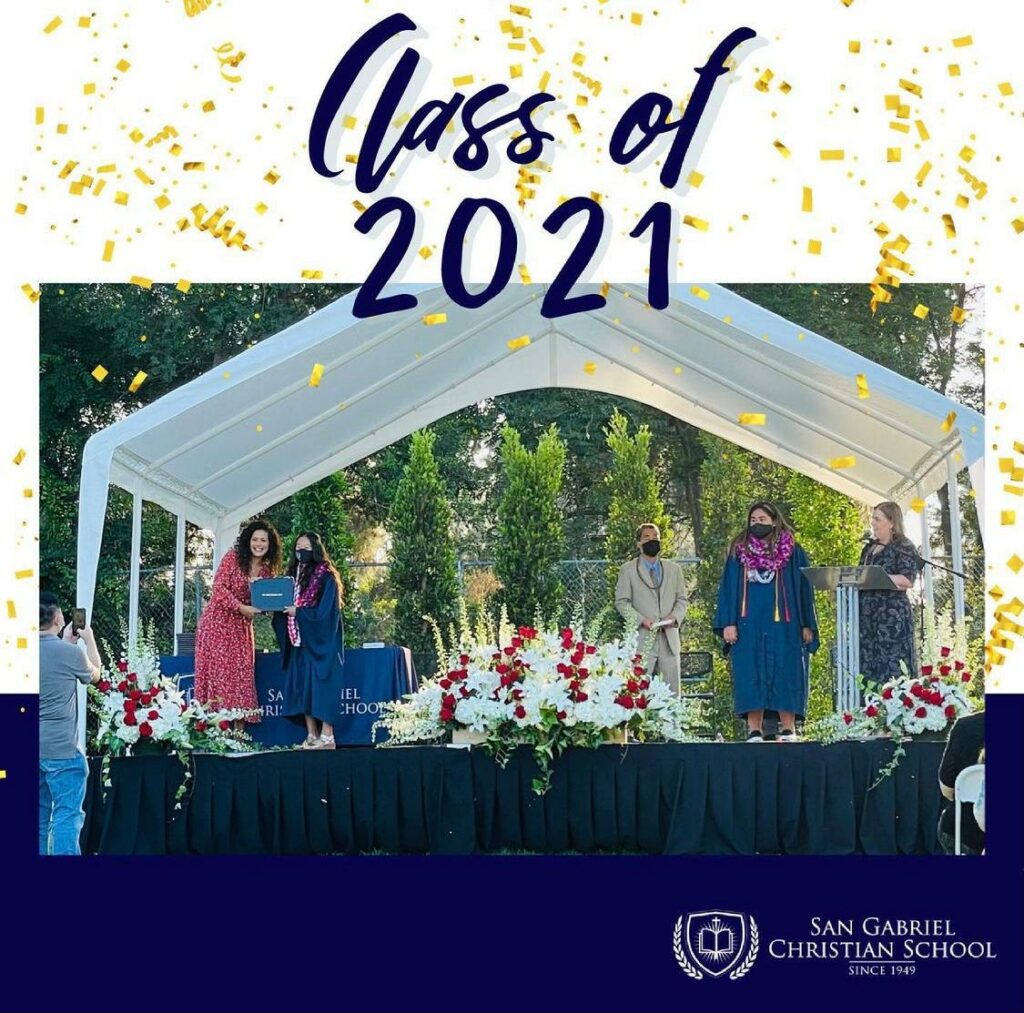 Congratulations Class of 2021!
May you heed the words of Micah 6:8 and do justice, love mercy, and walk humbly with our God. We are so proud of you! 
Awards Assembly
On June 2, we recognized academic excellence, students who read over a million words, 8th graders who excelled in each subject over their years at SGCS, and our 5th grade Henry Meyers Award recipient.
We also celebrated the retirement of our beloved 4th grade teacher,Miss Paula Free, our joyful Miss Debbie Kobbervig, and our kind-hearted Mrs. Marsha Abeyta.
Final Teacher In-Service
During the final Teacher In-Service Sharla Seto, BFC President, presented an "Ode to the 2020-2021 San Gabriel Christian Teachers" (see below).
Rocky Seto, Senior Pastor of Evergreen SGV, shared words of encouragement and prayed for the staff. The Setos have been a great blessing to the teachers and staff this past year!
Mrs. Bialon presented each teacher with an award that highlighted their unique talents that shined in this historic school year.
2020 – 2021 School Year Wrap Up Video Created by our own Charisse Kwong!
Summer Library News
Non-Summer School / enrolled SGCS Families may visit the library on Mondays beginning June 28 from 9 am – 12 pm
Book check outs and Accelerated Reader quizzing available.All AR points will count toward first quarter and words for the 2021-2022 school year!
Curbside pick-up available if you place orders by Sunday night through our online Library website. Park in lot and get temperature check at door. Mrs. Jaramillo will be called up to greet you. Don't forget your mask! 
(Please note: NO LIBRARY June 21, July 5 or July 19)
Enrolled Summer School Students may visit on Fridays during break or with Cohorts after lunch. 
Annual Fund Update
We are blown away…our Annual Fund total currently sits at over$14,000 above our initial goal! We are so incredibly grateful to YOU!